How to choose Optima lightbar?
Optima lightbar is a professional, highly configurable product. There are currently several hundreds of different variants covering the complete spectrum of customer requirements for hazard warning lights.
The Optima lightbar are very easy to install. The price of the lightbar includes cabling, mounting brackets and, in the case of orange versions, a control box. The lightbar are ECE R65, ECE R10 and ECE R26 approved. Selected types in blue and red have homologation R65 also in TB2 and TR2 versions!
How to choose.
1- Length
The first parameter you will choose in the menu is the length of the ramp while the choice is from 60cm to 160cm.
Tip
The lightbar can be produced in non-standard length after agreement with the seller. For example, 200cm or lengths of 80cm and 120cm.
2- Height
Optima lightbar are available in two heights.
Type Optima 60 with a height of 60mm.

Type Optima 90 with height 90mm.

3- Selecting the cover configuration.
Optima lightbars are manufactured with two or more top covers. The main choice is to choose the white or color center part. This selection affects the layout and number of LED modules in the lightbar and the ability to install a loudspeaker.
For example, the Optima 60 110 cm with a white center can have a maximum of 4 LED modules, but a loudspeaker can be built into it.

In contrast, a 110cm Optima without a white center can have up to 8 LED modules but not a built-in speaker.

Tip
We recommend to look into the details of the frame where it is possible to refine the selection and get a better idea what each option allows.
4- Color of lightbar
You can choose from three colors of flashes and their combinations that are orange, blue, red. The lightbar covers may be transparent in color. The middle cover is then in white color.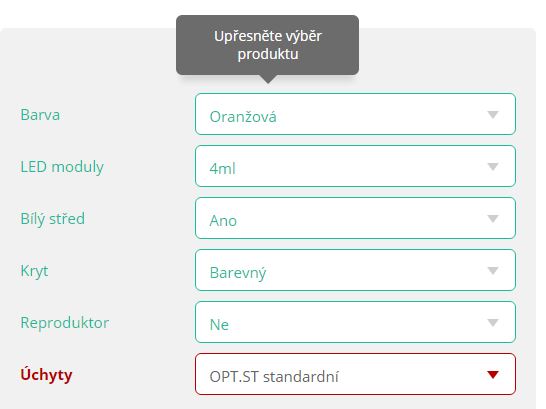 5- Number of LED modules
Optima lightbar can be fitted with 4 to 36 LED modules, depending on the type. Optima 60/90 basic lightbar have modules with 6 3W LEDs. Optima 60.3ML have modules with 3 pieces of 3W LED.Optima 90.2P have modules with 6 pieces of 3W LED. The number of LED modules and the exact location can be selected in the ramp detail if the lighbar configuration allows it.
6- Built-in speaker
The parameter can be selected in the ramp detail if the lightbar configuration allows it. The loudspeaker can only be installed in variants with a white center that is at least 50cm long.
7- Mounting brackets
The ramps are supplied with basic mounting brackets. In case of non-standard mounting it is possible to order fixtures that can better suit. We recommend using the original magnetic handles when driving at a maximum lightbar length of 110cm.
8- Luminance levels
The parameter can be selected in the lightbar detail if the lightbar configuration allows it.